In response to my last post Sam, owner of Chigley, suggested mountain biking as a way of giving our hounds enough exercise whilst keeping them with us at all time. Despite the fact that neither of us can ride a bike we thought this was a great idea and true to form have jumped in with both feet and ordered the kit before common sense has a chance to kick in and spoil the fun!
Today we ordered two shiny new mountain bikes (These had good reviews and came highly recommended):(Click here to view)
And two kits for attaching our Beagles securly to our bikes (recommended by Sam and Chigley)!(Click here to view)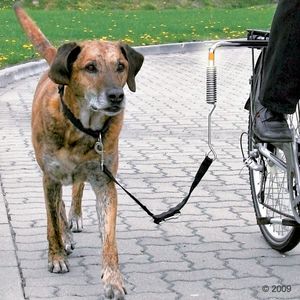 All that remains is to get some protective gear – helmets (yuk!) and Julie posted to my previous post to advise us to get padded fingerless gloves (Biggles can help us make those!).
The bikes should arive early next week. Then the fun begins! We'll do our best to get the highlights of our first attempts on camera.